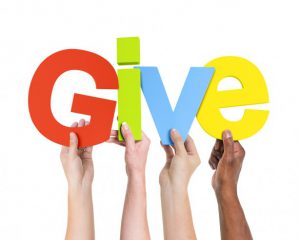 Faith to Faith International is looking for individuals, churches, and ministries to support the vision of FTFI. We need people just like you to partner with the ministry through gifts great and small. Use of the following payment options for one time gifts as well as on-going, regular support.
PayPal
Check or Money Order
Faith to Faith International, Inc.
P.O Box 32397
Columbus, OH 43232-0397
Wire Transfer
Send an email to info@ftfi.org for instructions.
Please consider becoming a monthly partner of the ministry. No matter the size (great or small) of the gift, the seed you sow will be used to further the vision of Faith to Faith International. The increase of monthly gifts will enable us to schedule farther into the future than we can at present.
GOAL: $3,000/month in regular monthly support.
---
Other Ways to Give
#1 Pray! Prayer is absolutely essential to the work of the ministry and is absolutely PRICELESS!
#2 Recommend the ministry to churches, organizations, and individuals. Almost all invitations to minister come through word of mouth and personal recommendations.